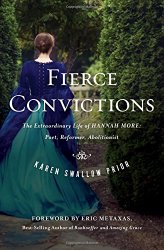 Book Review – Fierce Convictions by Karen Swallow Prior
"I hate to hear you talk about all women as if they were fine ladies instead of rational creatures. None of us want to be in calm waters all our lives."
– Jane Austen, Persuasion
Hannah More was one of those creatures. A woman of humble beginnings, Hannah made her mark first as a poet. As her social circle expanded to include such luminaries as Dr. Samuel Johnson, William Wilberforce, and actor David Garrick, Hannah used her talent to draw attention to serious social inequities of her time. So many, in fact, that I have decided to discuss them individually in this review.
Yes, Hannah More is that important.
But before we explore More's significant impact, meet her equally talented biographer Karen Swallow Prior.
About the Author: Karen Swallow Prior

Karen Swallow Prior, Professor of English at Liberty University, earned her Ph. D. and M. A. at the State University of New York at Buffalo and her B. A. at Daemen College.
Her scholarly work has appeared in 1650-1850: Ideas, Aesthetics, and Inquiries in the Early Modern Era; The Shandean; The Scriblerian and various literary encyclopedias.
Prior received the Chancellor's Award for Teaching Excellence in 2013, was named Faculty of the Year by the Multicultural Enrichment Center in 2010, received the Sigma Tau Delta (LU chapter) Teacher of the Year Award, and was the 2003 recipient of the President's Award for Teaching Excellence.
Her books include Fierce Convictions: The Extraordinary Life of Hannah More – Poet, Reformer, Abolitionist (Thomas Nelson 2014) and a literary and spiritual memoir, Booked: Literature in the Soul of Me (T. S. Poetry Press 2012). She is a contributing writer for Christianity Today, The Atlantic, In Touch, and Think Christian. Her writing has also appeared at Comment, Relevant, Books and Culture, Fieldnotes, The Well, and Salvo. She has spoken at numerous writing conferences including the Festival of Faith and Writing and the Roanoke Regional Writers Conference.
Prior is a member of Faith Advisory Council of the Humane Society of the United States. (Courtesy of Liberty University)
Meet Hannah More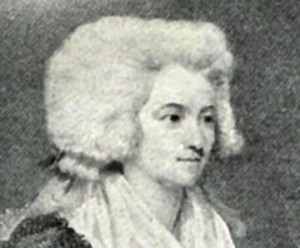 The year is 1745. Bristol was bubbling with commerce. Sugar. Tobacco. Chocolate. And, the deplorable yet lucrative import of slaves. Up rises the great manifestations of progress – trading centers, factories, a definitive middle class, a "proliferation of religious denominations." As prosperity takes firm root in Bristol, a precocious young daughter is born to Jacob and Mary More. In total, there will be five siblings, all female. According to records, Jacob More had agrarian ancestors. He served as a farm bailiff to John Symes Berkeley. When a pretty young servant girl caught his eye – she an innocent girl of sixteen, he a wiser age of 35 – they married. Prior writes that this marriage between the bailiff and the help most likely resulted in Jacob's dismissal from service. He then became a schoolmaster, whose love of learning and religious convictions were not lost on his daughters. Hannah, especially, would harness her talent to improve what she considered social dysfunction: an insatiable appetite for money (a consequence of "progress"), a lingering disrespect for the female sex, and an enduring apathy for "lesser creatures" be they human or otherwise. Hannah resolved to address these issues with an enthusiasm which inspired many more to join her reform efforts.
Creative Endeavors
"If musick's charms can 'sooth the savage beast,'
And lull the busy cares of grief to rest;
If magick numbers, if the Muse's art
Can please the raptur'd sense, and reach the heart, –
What nobler charms in eloquence are found,
Where wit with musick, sense unites with sound!
Oh could my unfledg'd muse the theme define,
The well-earn'd praise, O Sheridan, were thine!"
Although Hannah More was female and educated at Fishponds, she quickly grew to fame as a writer. Her "most public debut" was a poem written to Irish actor and orator Thomas Sheridan, praising his poise and eloquence exhibited during a lecture. Over time, More composed more verses which won her critical acclaim and enduring friendships, such as (the sublime vs. beautiful) Edmund Burke, dean Josiah Tucker, and duchess Elizabeth Somerset. At eighteen, she wrote a play The Search After Happiness to prove that plays, which were typically considered immoral, could actually be an avenue for Christian instruction. More did a translation of the Italian opera Attilio Regolo. She then wrote The Inflexible Captive. More eventually moves to London and gains new admirers with The Inflexible Captive, including actor David Garrick. Through mutual friends, Hannah met the famous Dr. Samuel Johnson, who adored her verses. When they met, Johnson surprised her by reciting her poetry. Her popularity and social circle grew. Her ballads include The Ballad of Bleeding Rock and Sir Eldred and the Bower. More's talent captured the spirit of the age. Her play Percy (a story of morality, loyalty, and stubbornness) was a roaring success and More broached the topic of marriage in her novel Coelebs in Search of a Wife. With Garrett's encouragement, More wrote The Fatal Falsehood for the stage. She was also an important member of the female intellectual gathering called the Bluestocking Circle. These women gathered not to discuss needlepoint or dancing, but their beloved literature and interest in the craft.
Educating Females
"Tho' should we still the rhyming trade pursue,
the men will shun us, – and the women, too;
The men, poor souls! of scholars are afraid,
We shou'd not, did they govern, learn to read,
At least, in no abstruser volume look,
Than the learn'd records – of a Cookery book;
The ladies, too, their well-meant censure give,
'What! – does she write? a slattern, as I live –
'I wish she'd love her books, and mend her cloaths,
'I thank my stars I know not verse from prose.'"
– Hannah More, The Search After Happiness
Recall that Bristol's middle class was burgeoning with increased trade. This created a comfortable middle class, a class whose patrons desired for their daughters to be educated. Hannah and her sisters would address the need and answer the call by creating a School for Young Ladies in 1758 which promised to instruct "French, Reading, Writing, Arithmetic and Needlework…A Dancing Master will properly attend" (16). Hannah's older sister Mary became headmistress at the age of twenty.
But as in any new endeavor, the More girls were not without their critics. Poet Anna Letitia Barbauld warned that, "Young ladies ought only to have a general tincture of knowledge as to make them agreeable companions to a man of sense, and to enable them to find rational entertainment for a solitary hour" (18). A "display of knowledge" would be "punished with disgrace." The Monthly Review complained in 1763 that "intense thought spoils a lady's features"(18-19). But the best defense is a good offense. Society was basking in the luxury of newly-established riches paired with a strong sense of entitlement. "Spoiling" was indeed a fitting verb, but not due to education. Rather, it was due to a lifestyle of frivolity and excess. Educating women in Biblical and moral teachings was an effective way to resist such thinking. As Prior points out, women such as Mary Astell (1694) were suggesting that female education would only benefit the moral climate of the community. Her treatise, A Serious Proposal to the Ladies for the Advancement of their True and Greatest Interest, provided much food for thought.
In 1799, More published Strictures on the Modern System of Female Education with a View of the Principles and Conduct Prevalent among Women of Rank and Fortune. More argued that the topics of education must be expanded for females. Typical schools for women offered a Humanities- based curriculum ("elective" although no less significant) – modern languages, music, drawing, dancing, painting, embroidery, manners. More rallied against such injustices: "The impatience, levity, and fickleness of which women have been somewhat too generally accused, are perhaps in no small degree aggravated by the littleness and the frivolousness of female pursuits" (21).
And the rigor was richly rewarded. The Mores' School for Young Ladies thrived for several years. Students recalled fondly the pedagogical methods More employed. She encouraged enthusiasm and innovation to ensure retention. Hannah More was a pioneer of female education.
And she was just warming up.
Abolition
"I owe I am shocked at this purchase of slaves,
And fear those who buy them and sell them are knaves:
What I hear of their hardships, their tortures and groans,
Is almost enough tot draw pity from stones.
I pity them greatly, but I must be mum,
For how could we do without sugar and rum?
Especially sugar, so needful we see
What, give up our deserts, our coffee and tea?"
– anonymously published in a Bristol newspaper 1792, believed to be Hannah More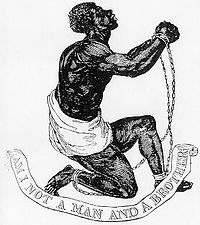 Hannah More was appalled at the economic excuse and moral relativism associated with the slave trade. She witnessed firsthand the abominable treatment of the slaves imported into English society. Equally disgusting were the excuses used to maintain the slave trade. More teamed up with politician William Wilberforce to spearhead the abolitionist movement. Steeped in Christian morality, the movement argued that God has created of one blood all of the peoples of the Earth. The English had no right to migrate and enslave thousands and thousands of Africans. In letters written to her sisters, More lamented about the deplorable conditions endured by the slaves and the lack of concern shown by captains and slave owners. One testimony, obtained by More before its appearance before a committee of the House of Commons, explains that slave traders were prepared to put an infant to death "because it had no value." More continues from the testimony, "I told them that in that case I hoped they would make me a present of it; they answered, that if I had any use for the child, then it was worth the money. I first offered them knives, but that would not do; they however sold the child to me for a mug of brandy. it proved to be a child of a woman whom the captain of our ship had purchased that very morning. We carried it on board, and judge of the mother's joy when she saw her own child put on board the same ship; her child, whom she concluded was murdered. She fell on her knees and kissed my feet" (123).
More and her friends began a literary assault on the immorality of the slave trade, appealing to personhood through the use of pathos, providing example after example of eyewitness accounts and fictional narratives.
More herself composed a poem titled "Slavery" which aims to change the hearts and minds of those who worried that abolition would injure their profits:
"Whene'er to Afric's shore I turn my eyes,
Horrors of deepest, deadliest guilt arise;
I see, by more than Fancy's mirror shown,
The burning village, and the blazing town;
See the dire victim torn from social life,
The shrieking babe, the agonizing wife!
She, wretch forlorn! is dragged by hostile hands,
To distant tyrants sold, in distant lands:
Transmitted miseries, and successive chains,
The sold sad heritage her child obtains.
E'en this last wretched boon their foes deny,
To weep together, or together die.
By felon hands, by one relentless stroke,
See the fond links of Nature broke!
The fibres twisting round a parent's heart,
Torn from their grasp, and bleeding as they part."
In addition to "Slavery," More also wrote "Baby, A True Story of a Negro Woman," "True Stories of Two Good Negroes," "The Black Prince, a True Story, being the Account of the Life and Death of Naimbanna, an African King's Son," and later "The Feast of Freedom."
Slavery was eventually abolished in 1833, assisted by the pens of concerned citizens like Hannah More and the political reform efforts of her friend William Wilberforce.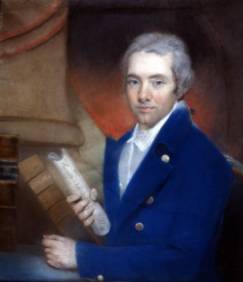 William Wilberforce
Educating the Poor
"The poverty in one village was so great that 'a single cup of broth cannot be obtained for there is none to give, if it would save life,' More reported. 'I am ashamed of my comforts when I think of their wants" (143)
Using her concept of education as raising the social conscience, More then took to creating Sunday Schools, or schools which educated the poor (not the contemporary definition which indicates exclusively Biblical instruction). Many impoverished families could not afford to send their children to schools to receive an adequate education, thus perpetuating the cycle of poverty. More wished to remedy this and did so with Wilberforce's blessing and financial assistance.
Part of the fuel for this movement was simply to educate Christians to learn and study the Bible. Therefore, literacy was seen as an evangelistic endeavor. More and her sisters travelled on horseback to dilapidated villages and witnessed extreme poverty on their mission to establish Sunday Schools. While on these excursions, the More sisters encountered some shady church dealings, including lazy pastors who "collected tithes" but rarely "preached." More attempts to confront these corrupt clergyman, but I encourage you to read the book for that discussion!
More's efforts were fruitful. Prior writes that three-fourths of laboring-class children between the ages of five and fifteen were enrolled in a Sunday School in the 1850s.
Animal Rights
"Though my beasts should be dull, yet I don't use them ill;
Though they stumble, I swear not, nor cut them up hill;
For I firmly believe there's no charm in an oath
That can make a nag trot, when to walk he is loath"
– Hannah More "The Hackney Coachman; or the Way to Get a Good Fare"
Although God gave Adam and Eve dominion over the Earth, He surely did not give them a license for tyranny. Hannah More's culture had, however, abused this privilege of leadership. Prior explains that the "form of equality" involved the importance "of each link in the chain" of creation. Animals were lower on this chain, but this certainly did not warrant human cruelty toward animals. Such abuses were common, from bullbaiting, bearbaiting, and badgerbaiting, to cockfights and cockthrowing. Animals were not seen as creatures, but objects of entertainment. Like she had with so many other social issues, More used her pen to shed light on the depraved practice of "blood sports."
Prior writes that "In the views of a reformer like More, a society that mistreated animals presented a distorted image of God's relationship to his human creation" (187). Again, More frames this as not merely a social issue, but a moral issue. And once more, More and her friends were successful: "Eleven bills on animal cruelty were broguth before Parliament between 1800 and 1835." By More's death in 1833, blood sports were on the decline. This loss of popularity indicates a new consciousness (and kindness) toward animals stirred by the writings and persuasions of More, Wilberforce, and "like-minded advocates."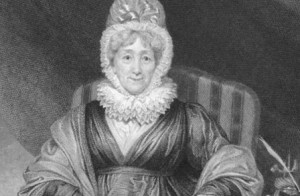 _____________________________________________________________________________________
What I offer here are brief sketches of the significant impact of a woman who used her pen to mold culture and history. It has been nearly two centuries since her passing, and yet, if you are a woman or came from humble beginnings or are of a different race, you have benefited from her efforts for equal rights and education.
Prior does an incredible job bringing the eighteenth and nineteenth centuries to life within the pages of Fierce Convictions. As I read, I could envision the dusty streets, the smell of chimney smoke mingled with factory smog. My ears were filled with sounds of drawing room recitations and male and female conversation, of theatres filled with hushed patrons expectantly awaiting More's newest play.
We also sense the strife. Here is a society divided over rights of human dignity and integrity. On the cusp of the Industrial Revolution, there existed many moral and ethical issues to untangle. It was not merely about cultural and economic progress, it was about the implications these social changes, about human development and the shaping of a new collective conscience which would saturate to the lowest strata of the socioeconomic sphere. Even animals were not exempt from the analytical eye of More and her contemporaries. If we are creatures of Christ, then let us live as such. Let every movement, every word, every thought be reflective of the God we claim to serve and worship.
It has been many years since a biography has impacted me like this. I, as an educated female from similarly humble beginnings, owe a personal debt to More for her relentless work in educating women, in making education a right and not a privilege.
I highly, highly recommend this book. To purchase from Amazon, click here.
Also, to purchase Karen's memoir Booked: Literature in the Soul of Me (which I also highly recommend), click here.
My review of Booked can be found here.