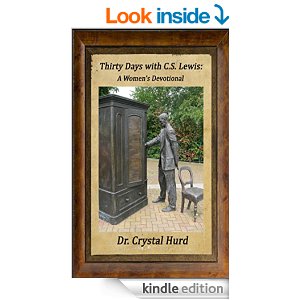 On Amazon!
Hello all!
I know I have been quiet recently, but I have been hard at work on some projects for the last few months. This has limited my ability to write blogs on a regular basis.
One of the projects that I have been working on is a women's devotional. Several months back, I was approached about doing a devotional, and chose to do a "woman-themed" Lewis devotional thanks in part to the research I did for the Lewis and Woman blog series. I am happy to report that as of this morning, the devotional is now available for purchase on Amazon! It is only available through e-book right now, but will be offered as a physical copy in late spring. I will keep you updated.
The quotes from this devotional represent a wide spectrum of Lewis writings. Included are verses from "Dymer" (pre-conversion Lewis), quotes from Mere Christianity, a miscellany from essays and sermons, and nuggets from works like The Four Loves, inspiring comments from The Collected Letters, and fiction excerpts from The Chronicles of Narnia, The Space (or Ransom) Trilogy, and Till We Have Faces.
If you are a shrewd consumer (like I am) and want to check it out before you buy, you can sample it on Amazon. I will include one here for your consideration:
Day 19: Seventy Times Seven
"As far as weakness allows I hope, now that you know you are forgiven, you will spend most of your remaining strength in forgiving. Lay all the old resentments down at the wounded feet of Christ." – Letter to Mary Willis Shelburne, June 25, 1963
Every time I read the story of the prodigal son, I wonder how the image appeared. The heartbroken father trudging through his daily tasks. Although he is prosperous, he feels as if a fundamental piece of him is missing. Then one day, from afar, he sees a slumped figure hobbling down the road. Limping toward home is his prodigal son. He has squandered his father's fortune and worked as a pig farmer, where he felt he was treated worse than the pigs. He is tired and broke. He worries that he will return only to be shunned and turned out. They will laugh at him, at his disdain for propriety, at neglecting his family to chase those misleading dreams which were merely fantasies of emptiness. Despite his reservations, he has nothing left. He cautiously approaches home.
Then his father sees him. His eyes are wet with tears of joy. The air is thick with reconciliation. He begins to stride, then run, towards his son and embrace him. No, you are not a lost cause. You are my son. I will always love you. A grand party is held to celebrate his return.
And in the corner, burning with resentment, is another brother. He never ran off to disgrace the family, never disobeyed his father's commandments. What is all this fuss about? He never left and father would never slaughter a fatted calf for him. While others around him rejoice, while the evening is filled with laughter and happiness, this brother still considers his pathetic sibling a traitor.
Here we see clearly what it is like to live with and without forgiveness. Notice how the father is jovial and incandescent. He is beaming. One of his own has returned home and he wants nothing more than to spread the joy. In contrast, the begrudging brother conceals himself among the throng. He has allowed the hurt to injure his would-be contentment. Instead of considering his father's happiness, he focuses conceitedly on his own. It ruins his evening, preventing him from engaging in the festivities. It creates a barrier which ends up isolating him from the rest of his family.
We are flawed beings, and forgiveness is required for all of us. I cannot withhold forgiveness while others forgive me. In doing so, I impoverish my life – substituting anger and sadness for joy. Let's be honest, some people are difficult to forgive. Some people may even appear to be persistent prodigals. But God has commanded us to love, not to judge.
Today, choose to forgive others and nurse old resentments. God is offering happiness. Will you embrace it or cross your arms in resistance? What benefit do the old hurts give you? On the other hand, what benefits will forgiveness grant you?
Click here to purchase on Amazon.
Thanks readers! More news coming soon!