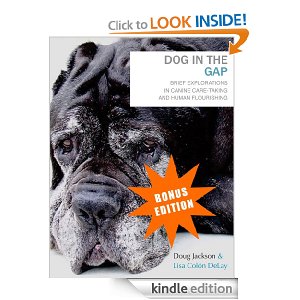 Photo provided by Amazon.com
I just love dog books. I have read a wide assortment of "dog stories", from the uber-popular Marley and Me, to Amazing Gracie, A Dog Named Christmas, Finally Home, and A Dog's Purpose (in progress). I generously donate to the ASPCA and own three adopted dogs who serve as my "furry children". In fact, I am fiercely protective of them as one would naturally be for his/her children. Several years ago, my husband's friend spent the weekend with us and foolishly called our adorable terrier mix Eppy a "rat". When she chewed up his baseball cap the next day, I manufactured some sympathy then turned the corner, patted Eppy on the head, and whispered, "Good dog". Four-pawed progeny are an essential component of the Hurd household.
Dogs may be deemed as "inferior creatures", but they can teach us important lessons about life. Genesis 1:26 gave us responsibility over animals, a responsibility often abused by the more greedy or power-starved members of our race. This can sometimes make us question which race really should be exercising "dominion" over the other. As Mark Twain once stated in his essay "The Lowest Animal", animals often lack some of the more deplorable characteristics of man:
I was aware that many men who have accumulated more millions of money than they can ever use have shown a rabid hunger for more, and have not scrupled to cheat the ignorant and the helpless out of their poor servings in order to partially appease that appetite. I furnished a hundred different kinds of wild and tame animals the opportunity to accumulate vast stores of food, but none of them would do it. The squirrels and bees and certain birds made accumulations, but stopped when they had gathered a winter s supply, and could not be persuaded to add to it either honestly or by chicane. In order to bolster up a tottering reputa­tion the ant pretended to store up supplies, but I was not de­ceived. I know the ant. These experiments convinced me that there is this difference between man and the higher animals: he is avaricious and miserly; they are not.
Twain makes a great point. My dogs are satisfied eating the same old kibble every day. No matter how cranky I can be, they exhibit an unexplainable amount of forgiveness and unconditional love. Eppy, the same dog who make a snack out of our friend's hat, once served as a nurse when my husband came down with a nasty version of the flu and occupied the bed, while I was incapacitated with walking pneumonia on the couch's fold-out "bed". She spent several evenings making rounds to each patient, ensuring that neither of us was lonely. Now how many humans would do that (without being related or financially compensated)??
This is why I anticipated the new book Dog in the Gap by Doug Jackson and Lisa Colon DeLay with such enthusiasm. Jackson and DeLay both approach the responsibility of animal care-taking with an important, even sacred, significance. Jackson affirms C.S. Lewis's position that Genesis does not grant humans a license for tyranny. In contrast, we are to perceive our roles as care-takers with the utmost caution and self-awareness, ignoring the often rigid boundaries between humans and animals: "Once radically reductive Darwinism obliterates the line between animals and human beings, both sides lose. We either treat animals as if they are human (a treatment which they stoutly resist), or we treat humans as if they were animals and animals as if they were nothing more than random products of the universe belching" (Introduction). The reader is told that DeLay's vignettes are more "devotional and personal", while Jackson's contributions are "more abstract and theological". This provides a nice structure (as their viewpoints alternate throughout the text) and gives the overall work a nice balance. Here, there is something for everyone; the left-brained and right-brained dog owner will find these essays both fascinating and nourishing.
I cannot say enough good things about this book. The vignettes present brief and interesting insights. Lisa's essay "Taming" discusses her reluctance to adopt Luna, a five-year-old chocolate lab. Lisa writes, "The term 'pet ownership' is a misnomer. We love objects we own; or we appreciate them and like how they make us feel. But caring for someone who needs you has nothing to do with possession. So when I say, 'Pet ownership' I'm really speaking of something that owns me – not the dog mind you – but the process". DeLay then introduces the classic tale The Little Prince by Antoine de Saint-Exupery. The Little Prince (the protagonist) finds a fox on a small planet and then proceeds to educate him. However, the education turns out to be reciprocal. When the Prince admits that he does not recognize the verb tame, the fox "tells him that taming is an ongoing act. It means to 'establish ties'. He tells the Little Prince that if the Prince does go on to tame him they will need each other. Friends tame each other" (14-15). In this story, we find our true responsibility as animal care-takers. It is not about domination, but a natural recognition and maturation. We establish relationships with animals and nurture mutual trust. We grow and realize deeper truths about life when we are entrusted to care for something other than ourselves. DeLay frames this process as a Godly one: "As we risk and make ourselves known and seen, the give-and-take of relationship breaks down our constructs. It rebuilds our suppositions with new materials. In the end there is mutual submission, perhaps echoing in whispers the essence of Godhead: Three-In-One. 'You become responsible, forever, for what you have tamed,' says the fox.'"
When I read that quote, I had to stop and read it again. Once you build relationships, there is a bond that remains. A bond that, despite disease and death, is never broken. Even the person with the strongest resistance to emotion gets nostalgic (and sometimes even choked up) when fondly remembering a childhood pet. There is no doubt that animals can and do "tame" us.
The care-taking motif continues in Jackson's piece entitled "Dog Spelled Backwards?" Jackson is a master of weaving the theological/theoretical wisdom of literary giants like C.S. Lewis, Francis Schaeffer, and G.K. Chesterton with practical insights. Jackson specifically addresses human responsibility of animals as derived from God. He writes,
Lewis writes in his non-fiction work The Four Loves, 'Emerson has said, 'When the half-gods go, the gods arrive.' That is a very doubtful maxim. Better say, 'When God arrives (and only then) the half-gods can remain.' In other words, when we fall under the all-wise (and therefore safe) authority of the One God, we can carry out our God-given responsibilities without becoming tyrants. And among those responsibilities is the duty to woo the rational and relational in the lower animals. Humanity's creation in the image and likeness of God (Genesis 1:26) means, among other things, that we carry an inborn desire to sub-create rational begins and have relationships with them.
What great truth is this. Have we ever considered that our responsibility to animals is molded after God's responsibility of His children? And as His children, do we always carry this responsibility with the same fervent devotion and attention that He offers to us? It completely redefines the relationship I have with my pets and by extension to the animal kingdom at large. Not only do we forge important relationships with animals and gain substantial perspective (and companionship), but we also please our Father, the author and creator of Love who is the Great Architect of deep and meaningful connections.
What I have just shared is only a taste of what you will get with this book. You will get personal stories from the authors about their own pets, plus some great insights into leadership, the healing power of animals, and the emotional risk and reward of being unique (with dogs as our instructors). There is also a fantastic essay by Jackson titled, "Do Dogs Go To Heaven, And Should I Care" in which this pastor/seminary professor muses deeply about the eternal destination of our favorite pets. But I won't extrapolate on that now – I simply urge you to purchase the book and read it for yourself!
This book truly has something inspirational and instructional for every dog lover. Jackson and DeLay illustrate that behind every happy bark, every bowl of kibble, every squeaky toy we step on when we first wake up in the morning is an animal who demonstrates love from a higher realm. The "lower animal" can serve as a furry, friendly teacher and guide, showing us aspects about ourselves and the world around us that we often ignore or neglect from our lofty perspectives. Simple joys – a fresh bowl of cool water, wet toys dropped expectantly at bare feet, running freely through freshly-cut grass. These are the moments that make a tail wag uncontrollably. These are what make the animal (and human) experience a delightful and rapturous one.
To purchase Dog in the Gap: Brief Explorations in Canine Care-Taking and Human Flourishing, click here: http://www.amazon.com/Dog-Gap-BONUS-EDITION-ebook/dp/B00EHNIYTU/ref=sr_1_2?ie=UTF8&qid=1376772293&sr=8-2&keywords=dog+in+the+gap