Just recently, my husband and I celebrated our twelfth wedding anniversary. That morning, I woke up early and on my way through the house, noticed something different in our living room. As I turned on the light, I was nearly in tears at what I saw…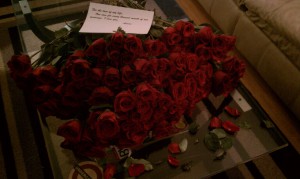 My husband purchased a rose for every month of our marriage. I'm not much of a math whiz, but that is 144 roses. It's hard to believe when you find such a romantic token of affection on the coffee table that the months can accumulate like this. Here's March of 2004, and there is November 2001. There are twelve roses for every Valentine's Day.
But there are also roses for the hard months. There is one for January of 2011, when my Mom was diagnosed with breast cancer (and there is also one for March 2011 when she beat it). There is a rose for September of 2009 when my Dad (whom I discussed a couple of posts ago) underwent quadruple bypass. There are several roses representing the difficulty I had when writing my dissertation (and therefore neglecting my husband).
Roses are a wonderful symbol of love but in this case, they also reminded me of the sturdiness of true love. TRUE love is not what we often see manifested in culture. Real love requires time and effort, and also a consistency of both in order to maintain it. When I teach love poetry, I often tell my students that real love is rarely portrayed in our society. Rather we are innundated with images of LUST. Lust is a poor substitute for real love. Furthermore, some people never experience real love because they are not patient enough or because their "ideals" of love are not resilient. The Bible defines love in I Corinthians 13: 4-8:
Love is patient and kind; love does not envy or boast; it is not arrogant or rude. It does not insist on its own way; it is not irritable or resentful; it does not rejoice at wrongdoing, but rejoices with the truth. Love bears all things, believes all things, hopes all things, endures all things. Love never ends. As for prophecies, they will pass away; as for tongues, they will cease; as for knowledge, it will pass away.
Also, an obscure poet by the name of William Shakespeare also defined love in his Sonnet 116:
Let me not to the marriage of true minds
Admit impediments. Love is not love
Which alters when it alteration finds,
Or bends with the remover to remove:
O no! it is an ever-fixed mark
That looks on tempests and is never shaken;
It is the star to every wandering bark,
Whose worth's unknown, although his height be taken.
Love's not Time's fool, though rosy lips and cheeks
Within his bending sickle's compass come:
Love alters not with his brief hours and weeks,
But bears it out even to the edge of doom.
If this be error and upon me proved,
I never writ, nor no man ever loved.
Do you see a theme? Love perseveres over time. It is not fueled by lust, but by compassion and genuine affection for an individual. When time adds a few wrinkles, love does not care (although cosmetic surgeons may disagree with this assertion). Love is not given enough credit for its durability. It's so suffocated by images of jewelry, chocolates, and lingerie, that it cannot be seen as a band-aid, a cushion, or even protective padding. When life gets tough, love helps carry us through. Too many people in my generation believe that when they face a tough situation in their relationship, "It's over." No, no; it is just beginning. Tests of the relationship will come. It is how you endure it that will make all the difference.
My marriage has endured issues over the years, but it has always emerged stronger than before. The night I fell in love with my husband was a most special evening. We played in a Christian band together and attended a church service. Afterwards, we along with some other friends visited a bridge over a quiet stream nestled idyllicly in a meadow. He and I sat in the grass talking and, to our great consternation, a meteor shower began. Disclaimer: I PROMISE, I am not fabricating this. This is not a story distorted into fiction by sentamentality. This REALLY happened. I firmly believed that it was God's validation that Aaron would one day be my husband. Sometimes, I go back to that meadow in my mind's eye. The breeze was blowing, the creek was whispering and carrying leaves on a journey downstream. The moon flooded the meadow and when my eyes returned from the sky, they met his. Years will pass, but I still cling to that moment because I know God prepared it for us. The great C.S. Lewis warns us against these moments, because some people tend to set it up as "the standard." Fleeting moments are never the standard, as the outline of mountains always lead to valleys. Lewis warns us to appreciate these stolen moments (which the great poet Wordsworth referred to as "spots of time") but to distrust them as they are inconsistent. But what is consistent in this life?
Love is. True love endures tough issues because love is stronger. That is how God created love to be. This is why it is best to trust Him to write your love story, as I did. Your love story is something special to you, something organic and realistic. I never juxtapose my relationship to the relationships of others or to what is reflected on television and in culture. My love story was especially written for me by a God who created love. And every word, every page, every chapter has His fingerprints on it.
Here's to my wonderful husband and many more happy years together!