Taken from Legendarium – 6/16/2014
Legendarium's Exclusive Interview with Artist and Illustrator Charles Vess!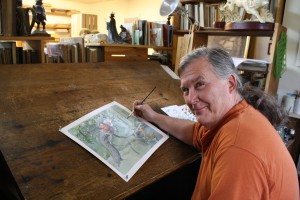 "…one of the things I really, really like about mythology and folklore is that they are really fun stories but also when you are reading them you are learning about another person's mythology, another person's folklore and you're starting to understand a different group of people on the planet and you become more accepting of various peoples' ideas"
Green Man Press is located in the back of a magnificent home-turned-business in an historic southern community. Like the beginning of a fantasy adventure, oneturns away from the obvious, a cavernous and welcoming entrance, and steers left down carefully-placed stones which slope downwards among shady trees and vines crawling up century-old brick. The wind whispers a greeting through the rustled leaves and guides you gently around to a hidden entrance- a curiously common door which leads to a whole new universe. Here is the place where worlds are sketched into existence by the talented hand of Charles Vess, whose enchanting studio can quickly draw one into the whimsical worlds of fantasy and mythology.
You may recognize Vess from many publications over the years. In the 1980s, Vess worked at Marvel and illustrated such greats as Doctor Strange, The Warriors Three, and Spiderman. Later, he would depict the fantastic world of Neil Gaiman's Stardust, serving as an art director for the film version released in 2007. He has also created images for the worlds of George R.R. Martin (Storm of Swords), Charles de Lint (Circle of Cats, The Cats of Tanglewood Forest and Seven Wild Sisters), and Susanna Clark (The Ladies of Grace Adieu) among others.
Image Courtesy of igallo.blogspot.com
It is no surprise that Vess began by collecting comic books as a young boy. His mother had a pamphlet titled 100 Masterpieces of Art which first introduced him to great works of art, but it wasn't until his first encounter with comic books that Vess would consider illustration and art as a career. Growing up in Lynchburg, Virginia, Vess and his brother accompanied their father during a monthly visit to the barber shop. There, Vess began reading and collecting comic books. He started with Tarzan of the Apes and Uncle Scrooge, but was completely smitten when Fantastic Four #4 was released: "I had never thought about this before, a human being drew those pages. If a human being drew those then there are other ones and I can draw them too". Vess' expansive interest covers comic book illustrators to fantasy artists such as John Bauer, Alphonse Mucha, Hannes Bok, and Edmund Dulac among others. Vess was enchanted by the artists and comics of his youth such as Hal Foster's Prince Valiant, Walt Kelley's Pogo, Alley Oop, and Flash Gordon.
From that moment, Vess was hooked, but unfortunately there were no art books (and no internet) to delve further into the talented illustrators he admired. His first art book, purchased his senior year of high school, chronicled the work of Aubrey Beardsley. Then while in college at Virginia Commonwealth University, Vess had access to art books for many prodigious artists including Howard Pyle, N.C. Wyeth, and Arthur Rackham (the last being his personal favorite and most significant influence). Vess read an article featuring four comic book writers from the Richmond area and wanted desperately to meet them. He would eventually strike up a friendship with all four writers, especially one named Michael Kaluta. Kaluta was working in New York and asked if Vess would be his roommate. He needn't ask twice:
I put everything I could into a station wagon. I drove to New York, loaded it in, and then I was hanging out with him and his friends and meeting editors and artists and things. Most of them were in the comic book field – Archie Goodwin and Walt …They would see me, they met me, and then they would start asking me if I wanted to do a story for them and I just sort of slipped in the back door.
Vess posing with several of his many accolades
But the back door is most certainly the best way to enter (remember our arrival?). Vess's work was in high demand. He was attending comic book conventions, doing story art, and selling his artwork. He was making a living through art, although he comically remembers that he "did laundry in the bathtub" and "ate peanut butter and jelly sandwiches".
It was at one of these conventions that Vess serendipitously struck up a conversation with an emerging writer named Neil Gaiman. Vess and Gaiman shared an affection for the writings of Virginia fantasy writer James Branch Cabell. Gaiman was currently writing the Sandman series and asked if Vess would be interested in illustrating some issues, but Vess declined. He much preferred to draw folklore and mythology over modern horror: "I've always responded to [folklore and mythology]. It's more natural, less hard-edge and technological. There are natural rhythms in forests that I like to draw…one of the things I really, really like about mythology and folklore is that they are really fun stories but also when you are reading them you are learning about another person's mythology, another person's folklore and you're starting to understand a different group of people on the planet and you become more accepting of various peoples' ideas". Gaiman later created a Sandman storyline incorporating African folklore and the two agreed to work together for issue #75. This successful collaboration led to many others, including Blueberry and the much-acclaimed work Stardust. When asked about his impressions working with Gaimon, Vess replied:
It was great working with him. What you discover doing any kind of collaborative work is that the better the writer you are working with, the better the art you're going to end up with, the more they pull things out of you that you never knew were inside your brain. Collaboration is a really interesting thing. Sometimes it doesn't work, but when it does, it's like sitting in a room with a bunch of friends and you are talking, and the words start bouncing around and all of you in that room come up with a joke that none of you had come up with by yourself. As long as you can check your ego in at the door and make the best thing you can, you become sort of a third voice that is the combination of both people. It's really interesting.
Currently, Vess continues to illustrate for fantastic children's books such as Driftwood Days and Anna Myers' Tumblewood Baby. Vess himself has previously published some art collection through his Green Man Press (http://www.greenmanpress.com/). Vess previously published a collection of adaptations featuring English and Scottish traditional ballads through Green Man. When asked about the origin of the name, Vess stated that he had just been sent a copy of Green Man: The Archetype of Our Oneness with the Earth which captures Green Man statues in various places around the world. He describes the Green Man as a "sort of a pre-Christian nature archetype, sometimes signifying man's progress with nature, feelings with nature". The book is out of print, but is now being republished by Titan Books. Titan will produce an artist's edition in the original dimensions of the artwork which will include "all the mistakes and corrections and tea stains".
Image Courtesy of www.wings-in-the-night.co.uk
Vess is now adding "writer" to his extensive list of accomplishments. Just recently, he sold his whimsical tale of Santa Claus, Father Christmas, A Wonder Tale of the North for publication. The book is expected to hit stores shortly before the holiday season. Vess is also hard at work on several other projects. Queen of Summer's Twilight is an 87,000-word manuscript of exclusively text while The Greenwood is approximately 67,000 words with a combination of text and images. He is also lending his talent to an adaptation of Appalachian Jack tales titled How Jack Made His Fortune.
Vess stands in front of a bookcase of stories all featuring his artwork
When asked what advice he would give to aspiring artists, Vess replied, "Use a big eraser, be stubborn, and draw from your heart". He also suggests that new artists network by joining various societies and attending conventions. He has an excellent and enlightening discussion on creating art under the "Art Process" tab of his website (http://greenmanpress.com/artprocess1.html). Vess urges young artists to expand their horizons by saving pennies and booking tickets: "You want to do it? You do it. There's always a way to get where you need to go".
For more information, visit Green Man Press. Also, purchase Drawing Down the Moon: The Art of Charles Vess here.
Visit the Amazon page of Charles Vess to buy illustrated works.
Catch Charles Vess at the following events and conventions:
June 20-22
Heroes Convention, Charlotte, NC
America's favorite comic convention since 1982, famous for its family-friendly, laid-back, comics-oriented atmosphere. I'll be in Artists Alley.
http://www.heroesonline.com/heroescon
Aug. 3-4
Creative Writing Days, Virginia Highlands Festival
w/Lee Smith and Gwenda Bond.
A two-day workshop examining and developing your own writer's voice under the tutelages of award-winning authors. In this session, I will work with the writers to demonstrate how an illustrator can enhance text – and subtext – and draw the reader into the story.
http://www.vahighlandsfestival.org/creative-writing-day
Sept. 6-7
Narnia Fumetti 9
Narni, ITALY
http://www.narniafumetto.com