Week Six of the C.S. Lewis and Women Series
Ruth Pitter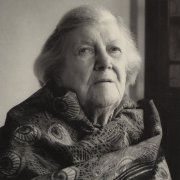 Photo Courtesy of www.poetryarchive.org
An interesting subject, Jack's views on women. His perceptions were very numinous here as elsewhere. I have thought that losing his mother (cruel loss at age 8, and horribly emphasized by circumstances) must have seemed a black betrayal. If he was mistrustful of women, it was not hatred, but a burnt child's dread of fire. There was something else later on, I believe, in early manhood – some further ghastly let-down. There is such a thing as being ill-fated in one respect or another. It is a pity that he made his first (and perhaps biggest) impact with Screwtape, in which some women are only too well portrayed in their horrors, rather like Milton's Satan – it is this perhaps that has made people think he hated us? But even here, the insight is prodigious: and in the strength of the 3 romances, and the children's books, I would say he was a great and very perspicacious lover of women, from poor little things right up to the "Lady" in Perelandra. I think he touched innumerable women to the heart here – I know he did me – one could sort of "home on" his love & understanding like an aircraft on a beam. As for Screwtape, I have wondered whether his experience with the "mother" he adopted [Mrs. Janie Moore] did not find a steam-vent here. The pressure once let off, and the success of the book being so great, the steam could be put to work less violently. Surely the shoals of letters he got from women (as he told me) must show how great was his appeal to them: nobody's going to tell me these were hate-letters. – Ruth Pitter in a letter to Walter Hooper, 13 January 1969
This week, the introduction for Ruth Pitter is written by the erudite and insightful Don W. King. King has authored several books on Lewis, including C.S. Lewis, Poet, which I believe was a significant work in assisting Lewis's induction into the Poet's Corner this fall, as well as editing the letters of Joy Davidman (Out of My Bone). He has authored the only critical biography on poet Ruth Pitter (Hunting the Unicorn) who served as a mentor for Lewis's poetry. Most recently, several of King's collected writings have been published by Abilene Christian University Press as Plain to the Inward Eye. At the end of this post, I will provide links to purchase King's books – an excellent investment! His research has single-handedly shaped my perception of Lewis's relationships with women, as he has completed major research studies on two major females in Lewis's life. His voice is unbiased, unaffected by passions and circumstance, illustrating clarity in his depiction of Lewis and his female companions. He, along with Hal Poe, created the Inklings Fellowship, which hosts regional meetings at Montreat College and conferences in Oxford — http://www.uu.edu/societies/inklings/.
Although Ruth Pitter (1897-1992) is not well known, her credentials as a poet are extensive, and in England from the mid 1930's to the mid 1970's she maintained a modest yet loyal readership. In total she produced eighteen volumes of new and collected verse. Her A Trophy of Arms (1936) won the Hawthornden Prize for Poetry in 1937, and in 1954 she was awarded the William E. Heinemann Award for The Ermine (1953). Most notably, perhaps, she became the first woman to receive the Queen's Gold Medal for Poetry in 1955. Furthermore, from 1946 to 1972 she was often a guest on BBC radio and television programs, In 1974 The Royal Society of Literature elected her to its highest honor, a Companion of Literature, and in 1979 she received her last national award when she was appointed a Commander of the British Empire.
Critical evaluations of her poetry have always been favorable. In the "Preface" to Pitter's First and Second Poems, Hilaire Belloc praises her poetry as "an exceptional reappearance of the classical spirit amongst us." He likens her verse to a strong stone building and argues really good verse "contrasted with the general run of that in the midst of which it appears, seems to me to have a certain quality of hardness; so that, in the long run, it will be discovered, as a gem is discovered in mud." In her poetry he finds "beauty and right order." Belloc also writes in the "Preface" to her A Mad Lady's Garland that Pitter has two peculiar poetic gifts: "A perfect ear and exact epithet. How those two ever get combined is incomprehensible—one would think it was never possible—but when the combination does appear then you have verse of that classic sort which is founded and secure of its own future." Rudolph Gilbert calls Pitter "the poet of purity" and notes "what the poetry reader values most in Pitter's poems is her eloquence . . . In Pitter one almost looks through the language, as through air, discerning the exact form of the objects which stand there, and every part and shade of meaning is brought out by the sunny light resting upon them." Later he adds: "She has a first-rate intuitive gift of observation, a control of poetic language and magical perception that is always to found in great poetry." C. S. Lewis, who carried on an extensive correspondence with Pitter about poetry, often lavished praise on her verse. For example, he writes: "Trophy of Arms [1936] is enough for one letter for it has most deeply delighted me. I was prepared for the more definitely mystical poems, but not for this cool, classical quality. You do it time after time—create a silence and vacancy and awe all round the poem. If the Lady in Comus had written poetry one imagines it wd. have been rather like this" (July 19, 1946).
Pitter was also a voluminous letter writer. Her friends and correspondents read like a "Who's Who" of twentieth-century British literary luminaries, including AE (George Russell), A. R. Orage, Hiliare Belloc, Walter de la Mare, Julian Huxley, John Masefield, Phillip and Ottoline Morrell, George Orwell, Dylan Thomas, T. S. Eliot, C. S. Lewis, James Stephens, Dorothy L. Sayers, Siegfried Sassoon, Virginia Sackville-West, Dorothy Wellesley, Lord David Cecil, John Betjeman, Evelyn Waugh, John Wain, Kathleen Raine, and May Sarton. Stylistically Pitter's letters are marked by crisp prose, precise imagery, and elegant simplicity reflecting a well-read and vigorous mind—lithe, curious, penetrating, analytical, and perceptive. Readers would do well to spend time with the poetry and letters of this remarkable woman.
Don W. King
Professor of English
Editor, Christian Scholar's Review
_________________________________________________________________________________________________________________________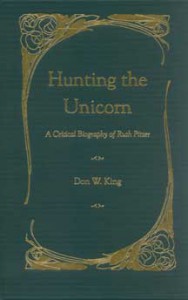 Photo courtesy of www.montreat.edu
A few weeks ago, I mentioned Ruth Pitter in my post on Lewis's female correspondents. In that post, I mentioned that George Sayer recalls a conversation he had with Lewis after picking him up from Pitter's home. Lewis stated that, "…if he were not a confirmed bachelor, Ruth Pitter would be the woman he would like to marry". Sayer remarks that it was not too late, to which Lewis replies, "Oh yes it is…I've burnt my boats" (Sayer).
As King points out in Hunting the Unicorn, Lewis and Pitter met through a mutual acquaintance, David Cecil. In a letter to Lewis following their first meeting, she is beaming with respect and admiration: "My visit to you has discountenanced all the gypsy's warnings of people who say 'never meet you favorite authors. they are so disappointing' 17 July 1946
However, both were already mutual admirers of the other's work. Lewis, always the aspiring poet, found a mentor in Ruth Pitter. Pitter, in the same vein, found a spiritual mentor in Lewis. Pitter admits that Lewis was a significant influence on her eventual conversion to Christianity. Her early poems illustrate the darkness and confusion associated with spiritual ambivalence. However, as World War II progressed, Pitter reassessed the source of her unending despair. She found hope by simply turning on the radio and listening to Lewis's wartime broadcasts which would later become Mere Christianity:
There were air raids at night. The factory was dark and dirty. And I remember thinking – well – I must find somebody or something because like this I cannot go on. I stopped in the middle of Battersea Bridge one dreadful March night when it was cold, and the wind was howling over the bridge, and it was a s dark as the pit, and I stood and leaned against the parapet and thought – like this I cannot go on. And it didn't come to me at once but some time afterwards I heard the broadcast talks of C.S. Lewis, and I at once grappled them to my soul, as Shakespeare says. And I used to assemble the family to hear because I thought that they were so good that even from the point of view of enjoyment people shouldn't miss them, and I got every word of his that I could, and I could see by hard argument there was only the one way for it. I had to be intellectually satisfied as well as emotionally because at that time of life one doesn't just fall into it in adolescent emotion, and I was satisfied at every point that it was the one way and the hard way to do things. (Hunting the Unicorn 118)
The poems from this period were published as The Bridge: Poems 1939-1944. The inspiration stems partly from the bridge Pitter travelled over on her commute from Chelsea to Battersea. Also, King illuminates, the bridge represents the movement of her thoughts between the ideal and the real.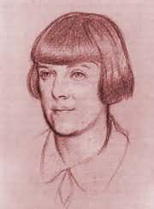 Photo courtesy of www.todayinliterature.com
This continual search, a wanderlust to fulfill an unnamed desire, is what drove Pitter to continually find hope in the utter hopelessness of war and death and rationing and factory work. Lewis had helped her uncover the origin of her restlessness; for this, Pitter was grateful. She went on to become a dedicated Anglican parishioner. Lewis often sent Pitter verses and asked for complete honesty in her assessment. He feared that her adoration of his works would encourage a cautious modesty, that her admiration would prevent her from giving an accurate critique. However, Pitter provided excellent feedback. In her journal, Pitter reflects on Lewis's verse (September 29):
"The peaks of poetry are shiftingly veiled, and different readers catch different glimpses of the transcendental". I would like to know more about the actual process of conception in his case. Did his great learning, & really staggering skill in verse inhibit the poetry? Did he ever (like most of us) catch some floating bit of emotional thistledown & go on from that, or did he plan on a subject like an architect? (Producing perhaps short epics?) He had a great stock of the makings of a strong poet: strong visual memory, strong recollections of childhood: desperately strong yearnings for lost Paradise & Hoped Heaven ("sweet desire"): not least a strong primitive intuition of the diabolical (not merely the horrific). In fact, his whole life was oriented & motivated by an almost-uniquely persisting child's sense of glory and of nightmare. The adult events were received into a medium still as pliable as wax, wide open to the glory, and equally vulnerable, with a man's strength to feel it all, and a great scholar's & writer's stills to express and to interpret. It is almost as though the adult disciplines, notably the technique of his verse, had largely inhibited his poetry, which is perhaps, after all, most evident in his prose. I think he wanted to be a poet more than anything. Time will show. But if it was magic he was after, he achieved this sufficiently elsewhere.
After seven years of corresponding, Lewis and Pitter agreed to use "Christian names" when addressing one another in letters. This undoubtedly proves the increased intimacy between Lewis and Pitter. They would sometimes eat lunch together and maintained a healthy correspondence for some time. Although Pitter never married, there is a strong possibility that she had romantic feelings for Lewis. Her nephew, Mark Pitter, admits that his aunt harbored strong feelings for Lewis, but was also steadfastly traditional in her beliefs surrounding relationships. For example, Pitter would have never suggested the possibility of a relationship to Lewis: women should never be sexually aggressive, becoming "the hunter". Such behavior was unladylike and illustrated, for some, the desperation of a woman vying for attention and companionship.
This is why a relationship between Lewis and Pitter never graduated past a fond friendship. Ruth was far too romantically reserved to pursue Lewis. On the other hand, another poetess, a brassy, former communist named Joy Davidman, was also stirred by Lewis's words. She, in contrast to Pitter, knew exactly what she wanted and went after it. She began a correspondence which would climax into TWO marriages with Lewis. Lewis was a rather coy lover, enjoying intellectual intimacy with women, but always resisting any emotional investment. However, Joy was able to melt the "great glacier" around Lewis's heart. Did Joy's entrance stifle Pitter and Lewis's friendship? To an extent, yes. Lewis wished that the two would become fast friends, but her outspoken aggressiveness proved intolerable for many of Lewis's friends. Pitter admits to writing to Joy, with no reply. Perhaps Joy felt threatened. Pitter had dined with Davidman and Lewis, but the correspondence slows during this period, as Lewis takes care of his ailing wife.
Could Pitter and Lewis have become lovers? One cannot rule it out. However, Pitter's cool avoidance of romance eliminated any chance of a relationship. Joy pursued Lewis with everything she had, Pitter would not. Pitter's next volume of poetry was titled Still By Choice. How ironic are these words when considering her reluctance to engage Lewis for a deeper relationship. While Joy blindly forged ahead, Pitter was still. Still by her own admonition.
Ruth enjoyed a successful career as a poet, even though she often obtained other employment for financial stability. She won many awards, including the Gold Medal for Poetry, a recognition she accepted from the Queen herself (since Ruth was the first female to be honored with the award, the Queen insisted that she present it personally). Ruth also did several broadcasts on the BBC and appeared on a show called Brain Trust. She died in 1992, leaving behind a wealth of poetry, a rich and extravagant legacy of language.
In my next installment , we will investigate a very controversial, yet significant woman in Lewis's life. She was his wife (twice!); her death was the impetus for the masterpiece A Grief Observed.
Next week we explore the enigma that is Joy Davidman (Lewis).
For more information on Pitter's relationship with other writers, including a VERY intriguing entanglement with George Orwell, check out Don W. King's Hunting the Unicorn: http://www.amazon.com/Hunting-Unicorn-Critical-Biography-Pitter/dp/0873389476/ref=sr_1_30?ie=UTF8&qid=1374026635&sr=8-30&keywords=don+w+king
Also don't forget to pick up some of Don's other great works: C.S. Lewis, Poet: The Legacy of His Poetic Impulse http://www.amazon.com/C-S-Lewis-Poet-Legacy-Impulse/dp/0873386817/ref=sr_1_1?s=books&ie=UTF8&qid=1374026842&sr=1-1&keywords=cs+lewis+poet
Plain to the Inward Eye: http://www.amazon.com/Plain-Inward-Eye-Selected-Essays/dp/0891123903/ref=sr_1_1?ie=UTF8&qid=1374026813&sr=8-1&keywords=plain+to+the+inward+eye
Out of My Bone: The Letters of Joy Davidman http://www.amazon.com/Out-My-Bone-Letters-Davidman/dp/080286399X/ref=sr_1_1?s=books&ie=UTF8&qid=1374026870&sr=1-1&keywords=out+of+my+bone