Dwight L. Moody by Kevin Belmonte: A Book Review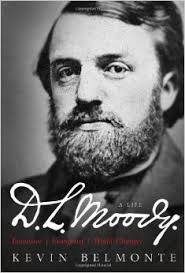 Photo courtesy of Amazon.com
History has a way of obscuring our spiritual heroes. This is achieved either by what is known as hagiography, the practice of white-washing and deifying individuals or by displaying them solemnly in a museum of mediocrity, reducing them to forgettable and difficultly-pronounced names inventoried in religious texts. We are told from an early age the importance of these figures, of the significant impact of their spiritual contributions, and the burden of sacrifice he or she made for the cause of Christ. But a thorough exploration of the character reveals that these elevated figures of our faith were actually as dirty and ragged as we all are, seeking Truth and hope in an ever fallen world, desiring to light just a few candles to chase darkness from their tiny corner of the universe. In many ways, we forget to place flesh on the statues of our former leaders and view them as one views that hardened clay – uncompromising, unaltered, and resolute. But they, at one time, had a beating heart, blood rushing through their veins, and lungs which welcome the air. They fell in love, they had errors in judgment, and experienced life in all its wonder and complexities. The necessary existence of good and bad mingled into our very nature – that is what a good biography shows us.
Kevin Belmonte has done just that. He portrays D.L. Moody as an orphaned, yet ambitious young man who transformed himself from an underprivileged and impoverished boy to a rousing minister and religious philanthropist. Moody would later travel the world speaking Christ's gospel, filling pews and the roll books of Heaven, while creating a spiritual legacy in the Moody Bible Institute.
Belmonte is our trusty, erudite guide as we follow Moody from his humble beginnings in Northfield, Massachusetts. There were several Moody children, and the family was perpetually in debt. The premature death of his father, coupled with many years of financial struggle, only increased Moody's personal desire to succeed. Moody wished to be self-sufficient and help his overworked mother, who was at home raising several children on her own. Despite his early-acquired burdens, Moody was known as a rowdy boy, with an indomitable sense of humor. It was not unusual for Moody to play pranks on some poor, unsuspecting neighbor.
With his headstrong desire to succeed, Moody heads to Boston in 1854 and quickly makes a name for himself in his uncle's shoe store. At the behest of his uncle, he begins to attend church services. Moody illustrates his business acumen and soon graduates to new responsibilities in the store. Additionally, Moody fostered a deep religious conviction, which climaxed one day when he accepted Christ in the back of his uncle's shoe store. From selling soles to winning souls, Moody had no idea that this one decision would greatly impact the trajectory of his life and the lives (and eternities) of so many others.
Image courtesy of www.trilliumrareprints.com
Belmonte then walks us alongside Moody in his journeys through the slums of Chicago, called "Little Hell" where young men came in droves to hear Moody speak. In the meantime, Moody meets and marries Emma Revell and starts a family while he carries his Bible through the bloody battlefields of the Civil War and across the wide ocean to pulpits throughout Europe. Moody paired with Ira Sankey to have many successful sermons across Europe and also create what was known as the Moody-Sankey Hymn-Book, combining ministry and artistry. Moody was seen as a different type of minister – one who seemed saturated of simply humility, who preached with a strong conviction and yet without a firm theological education. His speech was "colloquial…but with no eloquence", his demeanor calm. And yet, as Lord Shaftesbury puts it, "Are we not right in believing—time will show—that God has chosen the foolish things of the world to confound the wise? Moody will do more in an hour than Canon Liddon in a century" (77).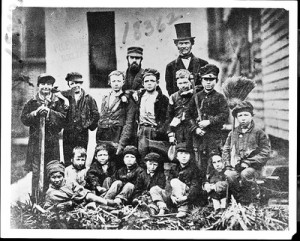 D.L. Moody and John Farwell
Image courtesy of www.moodychurch.org
Once Moody and Sankey returned to the United States, they toured major cities with revivals of great popularity. New York, Philadelphia, and Boston. Again, Moody's simplicity reigned. His brand of "common sense" arguments and essentially "mere Christianity" filled pews while sparking theological debates in the press. The Tribune wrote:
It was not…to the cultured classes that Christ Himself preached, but to the working-people, the publicans, fishermen, tax-gatherers; and He used the words and illustrations which would appeal to them forcibly. If Messrs. Moody and Sankey, or any other teachers, bring Him directly home to men's convictions, and lead them to amend their lives for His sake, let us thank God for the preacher, and let his tastes and grammar take care of themselves (83)
Many great men, including presidents, were in attendance. His New York meetings took place on what now is Madison Square Garden. Moody and Sankey refused any payment for these meetings, electing to spend the money on various charities. His casual style of speaking, explanations, and illustrations made difficult Biblical concepts more palatable. People were attracted to his warm personality. After his wanderlust subsided, Moody and his family settled in Northfield, Massachusetts, on his old homestead. Immediately, Moody began plans for a girls' school and with the financial assistance of friends, began to purchase surrounding plots to build the campus and thus began the Northfield Seminary and not long after, Mount Hermon, a school for boys. The school aimed to provide generous scholarships for many of the underprivileged students (much like Moody when he was a boy) as well as hone skills through a work-study program.
Moody then sets his sights on creating a school in Chicago, the famous Moody Bible Institute, to train young people in the gospel. With his entrepreneurial spirit, Moody then established the Bible Institute Colportage Association to publish religious works at affordable prices.
Belmonte walks us up the slopes of the Mount of Olives, where Moody, during a visit to Jerusalem, delivers a stirring speech on Easter morning. Moody, always the enterprising fellow, even rents out theaters during the World's Fair in Chicago, offering free concerts with sermons to convert people to Christianity. Because of his dogged efforts, Moody's concerts allow over two million people to hear the message of Christ. His life is the ultimate testimony that God can transform lives through the most difficult and hopeless of circumstances.

Belmonte, like his subject, has exceeding talent in encouraging enthusiasm for his topic, while communicating in an enlightening and entertaining way. I own several of Belmonte's books and each work illustrates Belmonte's prodigious writing talent and research abilities. I urge you to add this fascinating biography to your collection of cherished works. Belmonte, and the titanic figure that is Dwight L. Moody, will not leave you disappointed.